A video of Singapore Prime Minister Lee Hsien Loong saying his country would be "finished" if it were hit by Hong Kong-style protests has gone viral in mainland China, prompting social media users to praise the Lion City's strong governance.
Lee had told a union event on Tuesday that populist movements were growing in various places across the world – from the United States and France to Hong Kong, where anti-government protests have entered their 19th week – and he refused to dismiss the possibility of similar divisions appearing in his own country.
While Singapore's situation was different to Hong Kong's, "deep social angst" could take root in the Lion City, too, if it was not careful, Lee said.
"If it happens to us, like what's happening elsewhere, we will suffer the same consequences as the other [places], only worse because we are that much more vulnerable," Lee told the NTUC National Delegates' Conference.
"It would become impossible to govern Singapore, to make and carry out difficult decisions, or to plan for the long-term good of the nation … Confidence in Singapore would be destroyed. I think Singapore would be finished."
Lee's remarks were quickly picked up by mainland Chinese media. The state-owned Global Times newspaper, which is published under the People's Daily, posted a snippet of Lee's speech on Twitter.
Multiple posts about the speech also surfaced on the popular Chinese microblogging site, Weibo.
One of them, published by Chinese news platform Guancha Syndicate, had received more than 4,400 likes and 600 comments as of Thursday afternoon.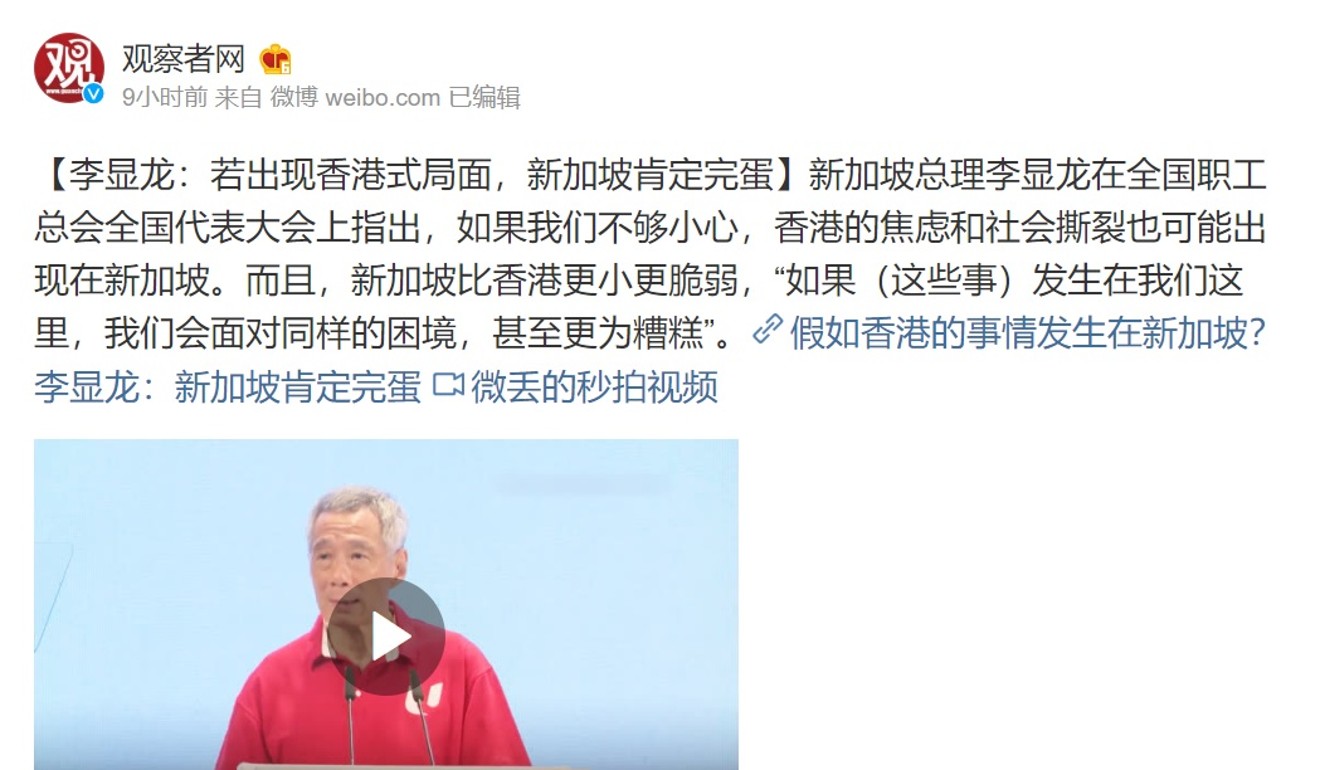 Lee's comments earned him plenty of fans on Weibo.Share:
Some Chinese commentators said Lee was worried that Singaporeans would follow in the footsteps of Hongkongers; others lauded the Lion City's hardline approach to governance.
One user said: "Singapore's legal system is very good, and the government is efficient. It would be great if China could become like Singapore."
Another, with the username Zhang Yiwu, said the People's Action Party, which is led by Lee, had a "strong ability to control and rule".

Zhang Yiwu's comment on Weibo.Share:
He wrote: "The top-down action is not weak, so the situation is very different."
Lee followed up his comments on Wednesday at the Forbes Global CEO Conference, where he provided his most extensive remarks on Hong Kong since the protests started in June.
In a dialogue that would later be picked up by Chinese media, Lee said the five main demands of Hong Kong's anti-government protesters were intended to "humiliate" the city's administration.
Acceding to them was unlikely to solve the deep-seated issues linked to "one country, two systems", he said.
"I don't see any easy way forward because the demonstrators, they say they have five major demands, and not one can be compromised," said Lee, 67.
The five demands of the protesters are: an inquiry into alleged police brutality; withdrawal of a controversial extradition bill; full amnesty for all those arrested during the protests; the retraction of the classification of protesters as "rioters"; and full universal suffrage in the semi-autonomous Chinese city.
"But those are not demands which are meant to be a programme to solve Hong Kong's problems," Lee said. "Those are demands which are intended to humiliate and bring down the government."
The Singapore leader Lee Hsien Loong has been critical of Hong Kong's protesters, saying they want to 'humiliate' the government rather than solve problems. Photo: Sam TsangShare:
He also said tackling the city's deep-rooted social issues such as its infamous housing crunch required political courage from its leaders.
He said: "So far, the SAR government has gone for conservative approaches and problems have not really significantly improved."
Eugene Tan, a law professor at Singapore Management University, said the Chinese reaction was not surprising as Lee's perspective was seen as "external validation" that the protesters in Hong Kong had gone too far.
"From the average person's perspective in China, Lee's remarks are germane as they see Singapore as a city state with an ethnic Chinese majority and a strong economy, not very different from Hong Kong," said Tan.
He said the remarks resonated with those who felt violence would not help to overcome the serious economic and social issues in Hong Kong.
Lee's focus on positive outcomes would also appeal to Chinese who had a renewed sense of optimism after celebrating 70 years of communist rule on the recent National Day, Tan said.
However, he added: "To be sure, Lee's remarks will not find a similar reception in Hong Kong."